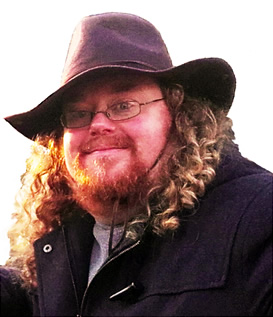 Hello, my name is Jamie. I am an artist living and painting in Somerset, England, welcome to my website!
Please see my portfolio for a selection of my work - if you like it, want to buy it or have any questions, please get in touch by telephone or email. Some paintings are available as prints and other products. If there is a painting you would like to have as a print that isn't currently available in that format don't hesitate to ask.
I have been painting for as long as I can remember and am entirely self-taught.
I favour acrylics for their vivid colours and fast drying properties, layering paint with brushes and palette knives. I enjoy painting on either canvas or hardboard. I love to move through styles of painting, one minute painting a realist portrait, the next an impressionistic piece. I like playing with light in my work using high contrast shadows, depths of light and shade and highlighting the effects of light bleeding through objects.
My subject matter is many and varied, though nature and human figures often feature in my work. In 2017 I was commissioned to develop a body of work related to musicians and their songs including Bob Dylan, Jimi Hendrix, Nick Cave, Bowie and John Lennon for Syndicart Ltd. This has been fantastic as I can combine two great passions: art and a love of music.
Despite offers to study at various art schools, I rejected a formal art education and worked for many years in the NHS. Throughout this time I was always creating art in my spare time. It was my outlet, a lifeline from a very challenging and stressful job. As time went on, my need to paint became greater and greater, so I decided to take a leap of faith and develop painting as a profession.
A move from Surrey to the Somerset Levels a few years ago helped me to become part of a very creative and supportive community. I have exhibited with Syndicart at Hexham Arts Centre,York Castle and The Art of Protect Gallery, York. I have recently finished exhibiting at the John Leach Gallery in Muchelney, Somerset and am currently showing at The Great Bow Wharf in Langport, Somerset. I will be exhibiting in Frome at Easter. There are plans in the pipeline for other exhibitions in Somerset this year and into 2020.
I have a lovely family life with my wife and our two children! I love where I live, in the Somerset Levels, we have lived here for just a few years but it is where I feel I really belong!
Enjoy looking!